Modern Kitchen Design Ideas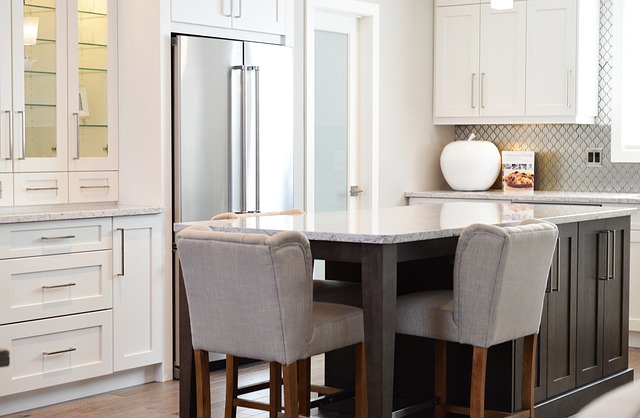 When you renovate your house, you must also include your kitchen in your plans. If you have decided to go for a modern style you should know that it is not hard to bring that to your kitchen as well. A traditional style can be nice, but sometimes you might want to bring something more to your kitchen, and we are here to help you with that.
Pick the right furniture
The furniture can clearly be the one that sets a modern vibe to your kitchen and that is why you have to be very careful when you choose it. You can try to combine different materials such as metal, wood and even plastic and do not be afraid of vibrant colors.
The tables, chairs, stools or benches should have an angular design and you can try and combine different styles as long as they go well together. After all, a modern kitchen is defined by bold choices.
Integrate the appliances
A modern design is mostly about bold curves and angles, so you might think that your stove or fridge will be hard to match. However, that should be the case. There are many fridges that come with that sleek design and you can even integrate your stove in the kitchen worktop.
Choose the right materials
Kitchen renovation is all about combining efficiency and beauty. If you are also going for a modern look why not try Caesarstone quartz? You can get it textured, polished or matte and it blends perfectly with any modern kitchen and it also has a wide array of color options. Granite is also a fine choice that can be used for the countertops.
Choose the flooring
When it comes to flooring, hardwood floors are the best looking choice, although it might be a little difficult to keep them clean. Nevertheless, they also match wooden furniture perfectly. Tiles are another good option.
Whichever alternative you choose, it is important that your floor matches the modern aesthetic, which means that you have to pick something that is relatively simple and uses clear lines. Tiles should have a geometric patterns or something that is not too complex.
Incorporate new technology
High tech accessories can be the finishing touch for your modern kitchen. For example, stainless steel appliances will make your tasks easier, but they will also match the sleek style you have chosen. Since a modern kitchen must also be minimalist to a point, make sure that you have various storing options that can be used for all your supplies and accessories.
Pay attention to your cabinets and countertops
You should also take care of your cabinets and countertops. For example, countertops will need strength and durability, but they also have to match the clean style. That is why you can choose laminate or granite for them.
Your cabinets can have a color that is not your usual natural wood one. Don't be afraid to choose gray, as it is a very popular option nowadays. If you are bold you can also try patterns.