Eye-Falsifying: Sneaky Ways For a Spacious Bedroom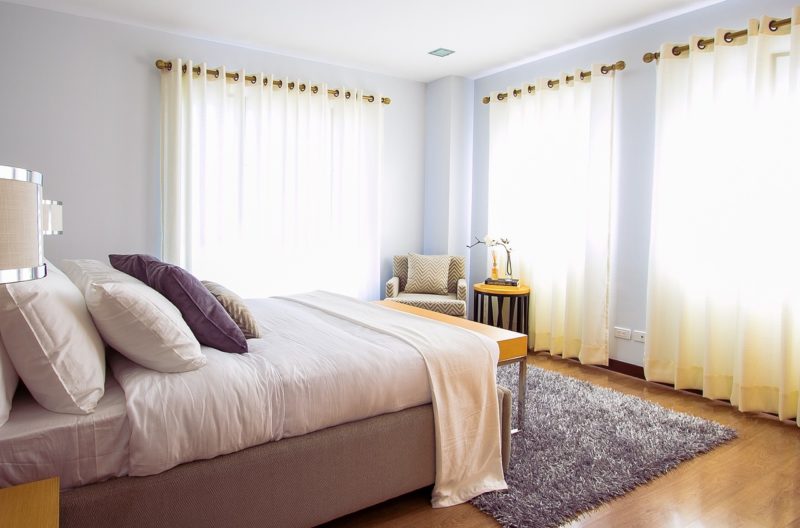 Your bedroom is a sacred place where you recover from a day's work. However, is there are times that you feel engulfed by a black hole made of hopelessness because of the bedroom's small space? Instead of resting, you feel conflicted like you're hiding out in a cave. When an area lacks natural lighting, storage, and color palette, you will feel claustrophobic.
Katie Hutchison, architect and author of "The New Small House" said that small house living is a trend that many people are embracing. "Smaller homes are not only more affordable and gentler on the environment, but it can be empowering to have less to maintain and less to worry about acquiring." But sometimes the struggle of keeping a small space can be taxing.
According to Census Bureau's Survey of Construction, the average room size of a 2000 sq.ft home is 261 sq.ft for master's bedroom and 231 sq.ft for a standard bedroom. Imagine how small it is and to think that other homes have much smaller bedroom spaces. You have less to distract from things that matter, but you have more to reflect on how to make it bigger for your stuff.
Now, do you wish to make the most out of your space? Well, if they didn't bless you with a prudent sized bedroom, here are some sneaky tricks and techniques to transform the place into a functional sanctuary.
Color Roulette
Light color schemes and contrasting colors like black and white creates an illusion of a small bedroom. Paint light shades for walls and ceiling and bring natural light inside to brighten the room and your mood.
You can create an illusion of fluidity through the use of monochromatic colors. Also, minimal decors of pastel shades will help the space look luminous and add a fresh breath of air that will let you sleep better.
More for Less
Go back to the basics and remove the unnecessary furnishings. Bed, floor drapes, a side table, and a closet are all you need. Don't kill the spaciousness and start finding the focal point of your small room. When it comes to decoration, put a painting in the wall's center point to attract attention and use breezy fabrics to create flow. Just by keeping it simple, you can create more space.
Dynamics and Reflection
Emphasize what fits best for horizontal and vertical spaces. Vertical shiplap or hanging bulb gives space a sense of openness and movement. Mirrors blend with ceilings vertically, so create a bigger illusion by using it to the reflect light causing your eye to assume a larger space.
As for horizontal spaces, use leggy furniture for creating dynamics. Take a low profile instead of lavish and haphazard designs. Also, add an upward focus by making a ceiling dark which creates depth and structure to the room. Adds sparkling pieces for a dark glamor.
Stripes and Patterns
One way of making a bedroom look large is to play with lines and design. Pattern designs emphasize repetition which shapes your vision to space. Use vertical or horizontal stripes to stretch the space visually. If the ceiling is low, make it look taller with repetitive lines and patterned wallpapers.
You need to make sure that it compromises to the color scheme and other decorating elements. Choose either one to unify the room's segment instead of interrupting the flow. Patterned headboard and curtains will also make a bedroom big but don't overdo it. You might get a headache.
Functional Furniture
Aside from investing in a cozy bed, furniture with functional features should be on top of your list. Organizing stuff is a way to streamline the bedroom space. Keep things uncluttered by having steamer trunk or ottoman with built-in storage wherein you can keep blankets and books. It can serve as a decoration that keeps the mess at the minimum.
Foldable chair and other furniture are smart choices. Use mirrored wardrobe to space out illusions. Also, use wall mounts storage containers if possible to augment floor areas.
Takeaway
A cluttered bedroom space only gives a piece of misery. Instead of having a perfect slumber party, it will make you feel cramped and uncomfortable. So you need to get your scale right, work your color palettes and create a seamless look with built-in organizers. Small bedrooms will even look bigger and functional if you follow the right eye-falsifying tricks. Max out comfort and style!
Would you like to receive similar articles by email?