Designing the Pool That Will Work for Your Family Years Into the Future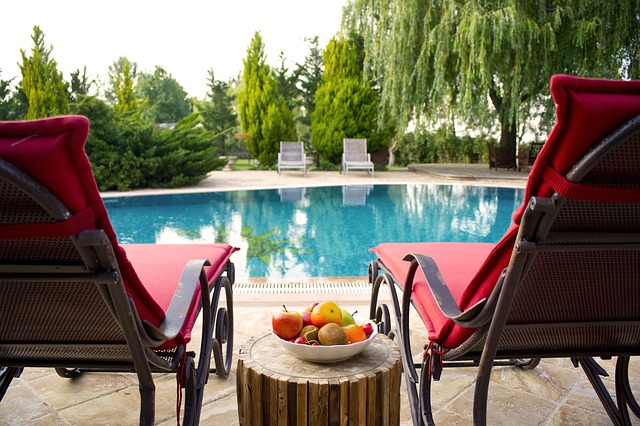 You know that a pool could be just the improvement that your home needs. With so many ways to put it to use, from the perfect way to get some exercise with every lap to the fun spot to be every day of summer, a pool is sure to be an addition the whole family loves. Since you know the choice of a pool just can't go wrong, now it's just time to get building, right? Well, not quite. Before you create the perfect backyard pool, you have to know what it is you're creating, and this step in the process couldn't be more important.
You want your investment in a pool to really be worth it. The design that you create is what will allow it to be so. If you get the pool design right, you won't just have a pool that will improve this summer, but one that will provide enjoyment to your family for years to come.
A Pool for Now That You'll Still Love Later
As you get started with determining the sort of pool you want, you'll need to consider what you expect to get out of your new pool. Do you see it being a hotspot for pool parties and other fun get-togethers, a place for the kids to splash away their summer vacation, or simply a cool spot to relax?
Keep in mind that you don't just want to plan for today, but also for the pool's future purpose. You may not have a lot of people coming to hang out right now, but in a few years, the backyard pool may be exactly where you want to host a party. Maybe the kids are all about the shallow end right now, but remember that the pool will become more for grown-ups as they grow up. Perhaps you see the pool as being the perfect addition to your workout routine, but a pool designed solely for lap swimming may lose some appeal when just looking for a place to cool down. The pool you build needs to be designed not only for now, but also for the future in which you will hopefully continue to spend plenty of time in the pool.
Planning Your Pool Design with Your Family's Future in Mind
The type of pool that works best for you will completely depend on your specific family and your pool preferences. The right pool is out there for your today and your tomorrow. You just need to make it happen within your backyard by considering each of the elements of a pool and determining the right choice for your family. Whatever you choose as you put together your design, you're sure to have a pool that will be enjoyed for many wonderful years.
Consider Pool Type
The first factor of pool design that you will have to decide upon is the specific type of pool that you are going to have. This boils down to two main questions: In-ground or Above-ground? And Traditionally-chlorinated or saltwater system?
In most cases, an in-ground pool is the one you'll want to go with. An above-ground pool may be cheaper, but there's not really much that you can do with them to make them suit your family. It's also usually not the ideal look that you want for your pool. In-ground pools are much more customizable, so you can make yours exactly the way your family wants. If you are worried about the cost of an in-ground pool, there are design choices that can help make your pool more affordable.
Whichever type you go with, you will still need to determine the maintenance method that works best for you. All pools need to have chlorine in order to stay safe and sanitary, but there are different ways of making sure to get this in your pool. If you don't want the extensive hassle of manually adding in chlorine, you may want to look into the pros and cons of a saltwater pool system.
Choose Size and Shape
The construction of the pool can also not even get underway until you plan the size and shape you want. There are a lot of choices here, but with some careful consideration, you can make the right decision for your pool.
When deciding on the size of the pool, there are several factors to consider. A larger pool provides more space to make other elements of your ideal design come to life and also gives more space in which to swim, of course. However, bigger doesn't always mean better. If you have a yard that's just too small for a larger pool to be possible or if you just want to save some of your limited yard space for other purposes, the size of the pool may have to be limited. In addition, a smaller pool is one way you can save some money on this pool investment.
Big and small, pools can come in a variety of shapes as well. Different ones work best for different families, so consider yours and where you'll be in the coming years. Here are a few of the options you may choose from:
Kidney Shape:These pools incorporate curves without making the shape anything too complicated. The spot where its shape bends can be used to separate the shallow end from the deep end.
Figure 8: Similar to the Kidney, this pool design offers something unique with two circular areas joined together.
Rectangle: The classic rectangular design is simple and makes for a good lap pool, if you can see yourself continuing to put the pool to use in this way.
L Shape: The L shape makes a rectangular pool easier to divide into sections. This is useful if you want to keep the kids or, down the line, grandkids, separate from the adult swimming.
If you have kids or will likely have them in your pool at some point in the future, you will want to have a design that includes a shallow end. Most shapes can accommodate shallow sections, but they are something you'll need to have in mind from the start.
Use the Right Material
Another crucial element to the pool design is the material that will be used to construct it. You have three main options to use on an in-ground pool's design: fiberglass, vinyl lining, and concrete. There are various pros and cons to all three of these options, so the right choice will simply be whichever works best for your family now and in the future.
Vinyl liners are one of the more affordable options when it comes to the initial installation of the pool, but they may not be the best option for your family's long-term plans. It doesn't take much for this material to succumb to damages and require replacement.
Concrete or fiberglass are your more ideal choices if you want to secure your pool for your family's future. These pool materials are very durable and can also help you to achieve the look that you're after. With concrete, you do get a bit more creative freedom with your design, but fiberglass, which is less expensive, may still have exactly the aesthetic you want to continue seeing in your pool.
Pick the Extras You'll Continue to Get Use Out Of
With the basics of your pool design picked out, you can then get creative with the rest. It can be as simple or as full of additional features as you would like. Just make sure to pick the extra design elements that will still suit your family as you continue to use the pool years on from now. Some items you may want to consider include:
1. Pool Steps
Almost everyone appreciates having steps available for their entrance to and exit from the pool. Young kids can use the pool steps to safely make their way into the water. Even adults enjoy being about to gradually adjust to chilly water though. Steps will likely always continue getting used as long as your pool does if you choose to include them.
2. Sitting/Tanning Ledge
Instead of just having a series of steps leading into the pool, you can also install a larger section for keeping you out of the pool's full depth. This feature is also great for continual use, even as the ages of your pool users change. Children that aren't so ready for swimming can sit here and still be in the water. Older family members may still want to just lounge on this ledge.
3. Diving Board/Slide
A feature that is less guaranteed to make a splash with your family on a lasting basis are items like slides and diving boards. Kids love to slide into the water and more skilled swimmers will want to practice their dives. Otherwise though, you may not get much use out of these.
Never Fall Behind on Maintenance Tasks
Once you have the perfect pool design to make it worth the long-term investment, it's still not just carefree enjoyment. To make sure you will still have a pool that can be enjoyed into the future, maintenance is a must. And you most definitely do not want to fall behind.
With consistent pool maintenance, your water stays clean and safe for your family. Without it, you may be setting yourself up for much more problems in the future.
Establish your maintenance routine early on so that no task ever goes forgotten. You want to clean at least once every week and check the chemical levels perhaps even more often. It isn't too much hard work, but it does all take quite a bit of time, so make sure you're leaving room in your schedule.
A Pool Design That Will Last
As long as you consider your future as well as your present when getting a pool, you should be set. Thinking ahead can allow you a pool design that lasts. This is especially true if you make sure to keep up with all the maintenance that pools require.