Buying and Installing Curved Stairs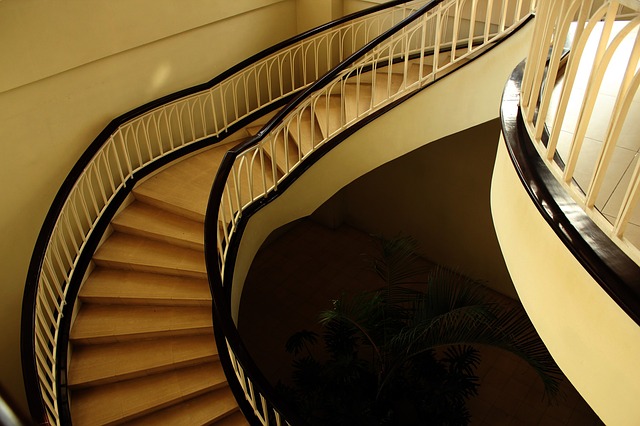 If your home improvement involves more than one level, you'll have to include stairs in your plan. The decisions you make regarding your stairs will be important because the staircase you install will greatly impact the overall success of the project in terms of aesthetics and function.
Function-wise, your stairs should provide safe and easy passage between the levels. In terms of aesthetics, stairs are a powerful aspect of design, providing strong form, pattern, rhythm, and lines. Whether installed outdoors or indoors, your staircase construction gives you a chance to express your creativity.
Traditional staircases can be costly and difficult to construct, especially if they're handcrafted from hardwood. If you're interested in handcrafted custom stairs, identify a stairs contractor that specializes in that type. Carefully review the portfolios of at least three prospective contractors and get bids.
The good news is that there is an alternative. Do-it-yourselfers and contractors can select from a wide range of top-quality pre-made stairs that are ready to assemble. These stairs are easier to install and more affordable than most handcrafted custom stairs.
The most widely used pre-made, knock-down staircase kits are curved staircases; more specifically, spiral stairs. These stairs are highly favored because, in addition to occupying the least space and being budget-friendly, they offer alternative access between floors, away from the main staircase in your home.
Spiral stairs are especially ideal for two-story additions as well as reaching the basement or attic rooms. They also have a sculptural, lightweight aesthetic and use up little space.
Materials used to manufacturer spiral stairs include hardwoods, aluminum, steel, or a combination of all these. Some manufacturers specialize in making either metal or hardwood spiral stairs. However, many make both. The companies usually offer a few basic designs that can be customized into unique curved staircases by choosing from a variety of railings, balusters, and treads among other options.
A number of options are available. Hardwood stairs are available in cherry, mahogany, walnut, ash, white oak, poplar and red oak. Aluminum and steel stairs are available in a number of finishes, including customized color coatings and hot-tipped galvanized. Treads may be steel base, plywood, rubber, hardwood, gratings, or embossed steel.
When buying spiral stairs, you typically select the twist direction: left-hand railing up or right-hand railing up. You also need to choose the diameter. Standard diameters offered by manufacturers range from four inches to six inches, sometimes higher. Spiral stairs with a diameter less than four inches are not advisable because of safety reasons.
Walking up and down spiral stairs may not be safe for the elderly, children, and anyone who may be unsteady. Therefore, the sturdiness of the railing and the inner width of the tread are of critical importance.
Another important decision to make when ordering spiral stairs is whether it will be a one-piece unit or a knocked-down kit. Knocked-down kits are more affordable and easier to transport. One-piece units, on the other hand, are more durable. With fewer joints and a lighter weight, they are not as likely to rust or disintegrate.