The Benefits of Luxury Vinyl Tiles – LVT Flooring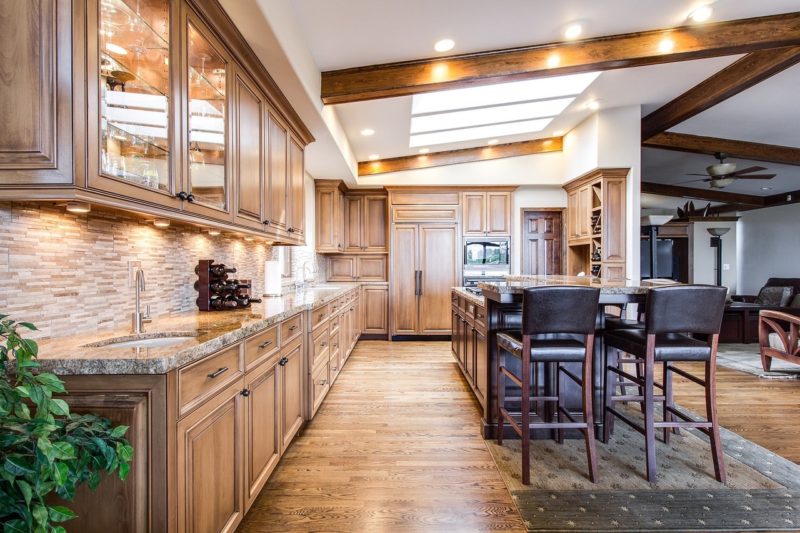 When you are in the process of renovating your home, you need to look at everything from the flooring to the furniture and the layout of your rooms. With flooring, it is important that you consider your options carefully to make sure that you choose the right option for you.
Luxury vinyl tiles are a great option for those who want to improve the décor of their home with a durable and strong flooring option. Many people already have luxury vinyl tiles in their home due to the many benefits of these tiles. Here, we are going to discuss the benefits of adding some luxury vinyl tiles to your home. Keep reading to find out more about LVT flooring.
Durability
When you choose luxury vinyl tiles for your home, you can be sure that you are choosing something which is going to be extremely durable. There are many other flooring options for you to choose from but very little of these will be as durable as LVT flooring. These tiles are often made from 100% vinyl and so they are likely to last a lot longer and stay intact regardless of what they come across over time. Choose luxury vinyl flooring if you want to find the most durable option for your home.
Sound Insulation
Did you know that luxury vinyl tiles can actually insulate sound? When you walk on other types of tiles, there tends to be a much louder noise, and this can become annoying if you are trying to keep your house as quiet as possible. With the thickness of luxury vinyl tiles, you can be sure that the sound will be less likely to travel as it will tend to be subdued by the flooring itself. Think about this if you want to choose a flooring option that will insulate sound and keep it low.
Cost-Effective
One of the main reasons that people choose luxury vinyl tiles is that this is actually a much more cost-effective option for your home. This is because of the durability of this type of product as it will be less likely to need to be replaced over time. For many people, finding the most cost-effective option for home design can be a priority. With luxury vinyl flooring, you can be sure that you are choosing a cost-effective option that comes at a good price.
Warmer
If you live somewhere that already has underfloor heating installed, then you might find that LVT flooring might be the best possible option for you. One of the benefits of this type of flooring is that the heat can be conducted through the flooring relatively easily meaning that you'll have a warmer home. On top of this, general warmth can come through this type of flooring and there can be a cushioned feel due to the overall thickness of the tiles. This is something which people tend to prioritise as a warmer home can lead to reduced energy bills and environmental impact.
Versatility
Another important benefit of LVT flooring is the fact that this option can be extremely versatile. There are certain areas in the home which need to be considered in terms of practicality and you might need to forgo a certain design choice to aid this. With luxury vinyl flooring, you can be sure that your flooring will fit in many different rooms in the home and that the design will still look impressive. Whether you want to use your LVT flooring in your bedroom, your bathroom or your kitchen, you should find that this flooring option is versatile.
Easy To Install
One of the main concerns for homeowners who are doing a bit of renovating is in the overall difficulty of the tasks at hand. The great thing about choosing luxury vinyl tiles for your home is that these tiles are extremely easy to install. Most of the time, you'll just need to click the tiles in place or stick them down. This can make this type of flooring much easier to install than other types including wooden or stone flooring. If you are looking for an option that is not messy and is quick – luxury vinyl tiles might be the best option for you.
Longer-Life
Another benefit of luxury vinyl tiles is that they tend to have a much longer life than other flooring options. Many products in this category will last around 25 to 30 years which is a long time for anyone who is thinking about redesigning their home. The lifespan of this type of flooring is often why many people choose luxury vinyl tiles when designing their home initially. You won't need to replace your LVT flooring for a really long time and so you'll be sure that you are getting your money's worth.
Variety In Design
The final benefit of choosing luxury vinyl tiles for your home is that they vary a lot in design. This is perfect for those who want to have different décor in every room in their home and want to make sure that the flooring matches this. Luxury vinyl tiles come in many different colours and you can even have different patterns on your flooring. If you are thinking about updating your home design then this might be the best option for you in terms of décor.
Conclusion
Luxury vinyl tiles emerge as a great choice for home flooring renovations, boasting durability, sound insulation, and cost-effectiveness. Their ability to conduct heat efficiently adds warmth while their versatility in design and easy installation make them a practical and stylish option for any room. With a lifespan of 25 to 30 years and a plethora of design options available, luxury vinyl tiles elevate not just floors but the overall aesthetic of your home.
Would you like to receive similar articles by email?