4 Applications of Pressure Washers You Ought to Know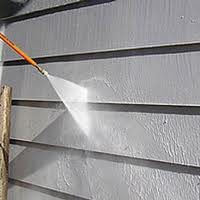 Pressure washers are one of the finest inventions that provide us the ease of cleaning our home exteriors and vehicles. There are numerous benefits of owning a pressure washer that many people are unaware about. One can easily utilize this commercial machine for residential purposes.
The technique is earlier used for commercial cleaning of vehicles that required an extreme pressure for removing stubborn dirt and grime. People now prefer this wonderful equipment for their residential cleaning as well. Here are some residential applications of pressure washers you never knew existed.
Efficient Cleansing of Fence
Pressure washing is an eminent way of eliminating stains and dirt from your home fencing, which also restores the shine. Some people are unaware of the fact that pressure washers are powerful machines that can easily shun away any stains from any surface in a couple of minutes.
One needs no professional training in using the washer and can effortlessly get neat and clean fences. You just need to aim the fence and trigger the high-pressure water. It can be easily used on both metallic as well as wooden fences.
Effortless Gleaming Tiles
One can also use pressure washers for cleaning the tiles of the home. Moreover, cleaning your patio tiles isn't a piece of cake, and requires ample of time and effort. With a powerful pressure washer, you need not worry about the overall time and effort. You can easily remove sticky dirt from the tiles in a couple of seconds.
Furthermore, you just need to consider a powerful washer that is available in different variants according to the one's needs. You need to find a suitable dealer to get a genuine product. Make sure to check for the online reviews of a pressure washer before finalizing. One can explore the internet to get appropriate reviews from other buyers.
Lustrous Walkways and Stairs
There are numerous benefits of owning a pressure washer, and one can simply clean the stairs and walkways of their home exteriors. Pressurized water enables effortless cleaning of stairs and walkways, which otherwise consumes a lot of efforts and time.
Furthermore, you need not call professional cleaning services, which in turn saves a lot of your hard-earned money. One can simply order a pressure washer from a renowned brand. You can also explore the internet for numerous options, and choose the one according to your needs. The best way is to get the reviews of the latest products and then choose the one that fits your budget.
Shiny Outdoor Furniture
Many people are unaware of the fact that they can easily clean their outdoor furniture with the use of pressure washers. One can easily clean wooden as well as metallic furniture to shun away any stains and grime that otherwise requires hard efforts.
Conclusion
Sometimes people do not consider the importance of a pressure washer and consider it as an efficient tool for washing their vehicles. They can utilize it for cleaning the exteriors of their home as well as the walls and windows of their building. A pressure washer can be utilized in many ways, and some of them are mentioned above.